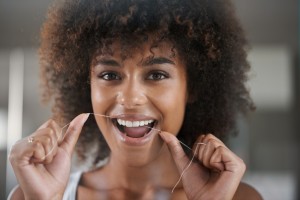 Chaska cosmetic dentistry transforms smiles with personalized treatments. The team at Chaska Dental Center produces better lives with dazzling smiles.
The American Academy of Cosmetic Dentistry says that practically all American adults believe a great smile is a tremendous personal asset. But, what if your smile is less than perfect, showing gaps, stains, uneven tooth length or other embarrassing imperfections? Would you feel confident when you smile and talk in social situations or when you get your picture taken?
What if there were no cosmetic dental services?
A world without Chaska cosmetic dentistry is a world filled with people ashamed to open their mouths. It's world with people not achieving their personal best in relationships or in the workplace because they lack the self-esteem winning smiles confer.
Thankfully, cosmetic dentistry is here, accessible and just what you need at Chaska Dental Center in Chaska, MN. Both Dr. Thomas Meshke and Dr. Aaron Swindorf combine their credentials, skill and passion for optimal oral health and aesthetics to deliver outstanding smiles that last a lifetime.
The smile makeover consultation
When you come to Chaska Dental Center for a smile consultation, your Chaska cosmetic dentist will examine your teeth and gums to ensure they are healthy. Also, he will ask you what you would like to change about your teeth. In other words, what bothers you about your smile, and how would you like it to look? Your cocoa dentist will take digital x-rays, photos and other imaging to create a treatment plan that specifically and realistically addresses your concerns and how they can change.
Cosmetic dental services offered at Chaska Dental Center
A simple, economical way to refresh dull, yellowed teeth is through professional teeth whitening. Chaska Dental Center offers dental grade bleaching gel, applied at home in custom-fitted whitening trays. Worn for 1 to 2 weeks for a prescribed amount of time daily, the trays plus gel brighten teeth by as many as 8 shades. The gel powers out discolorations caused by food and drink choices, smoking, simple aging and other factors.
Porcelain veneers and no-prep Lumineers. Individually crafted according to instructions provided by the Chaska cosmetic dentist, these dental laminates cover the front side of teeth, transforming them from stained, chipped, gapped and crowded to straight, bright and just perfect for the patient's facial structure.
Cosmetic resin bonding fills chips, hairline cracks, small spaces, pits and other problems with a tooth-colored, durable combination of glass and acrylic. Your Chaska dentist shapes the material to achieve teeth that are even, bright and natural-looking. The finish is cured with a special light polished for dazzling results.
Gum lifts (gingivectomy) improve the shape and length of soft gum tissue. Used to make room for crowns, implants and other restorations, to expose more tooth surface or to even the appearance of gums, gum lifts treat typical "gummy smiles." The dentists perform gingivectomies in the office using soft tissue laser instruments, Electrosurgery or traditional incision and suture methods depending on patient needs.
How could your world change through cosmetic dentistry?
Explore the many possibilities at Chaska Dental Center. Your best smile is as close as a simple phone call. Contact the office for a smile consultation.