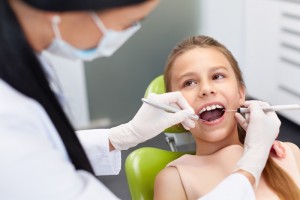 Many children are fearful of new environments, and the dentist may top the list of scary new places. Visiting the dentist even for a routine checkup and cleaning can be a really frightening experience for little patients, but your children's dentist in Chaska says there are some things you can do to remove the fear. We've got the top 5 tips for helping kids overcome a dental phobia in this week's blog post!
Read Some Books About the Dentist
Often, kids are nervous about visiting the dentist simply because they are still a little unfamiliar with what goes on the dental office. What better way to help them familiarize themselves than by reading about it? There are plenty of children's books on the topic — Scholastic has some ideas for what to read before a dental visit.
Role Play
Sometimes acting out a dental appointment can help remove dental fear for children in Chaska — especially for kiddos with big imaginations. If that sounds like a method that would work for your child, have them sit in a chair in the living room and you pretend to be the dentist. Then act out a friendly dental appointment. Have them open wide, count their teeth, and talk to them about the importance of brushing and flossing. Then let them ask you any questions they may have.
Practice Open Communication
You can try all of the tricks you want to remove dental fear, but perhaps the best thing to do is simply talk about it. Ask your child what they're afraid of, and why. Remind them that there is really nothing to fear from visiting the dentist — and that a healthy smile is something to value. Be patient, and take the time to thoughtfully answer any questions your child may have about the dentist or their oral health.
Oh, and one more thing: while you're talking to your child, stay away from words like "pain," "shot," "hurt," and "needles." For example, we tell our younger patients that we'll give teeth medicine to help them fall asleep rather than a shot to make them numb.
Set a Good Example
It's easy to forget that your child looks to you as an example for just about everything, including how they should feel about their dental hygiene. If they see you brushing, flossing, and making dental visits a priority, chances are good they will, too.
Rewards Really Do Work
Chances are good you remember the treasure chest or rewards zone at the dentist when you were a child. We've been using little treats like stickers, small toys, and other rewards as a form of positive reinforcement for ages — because it works! When little ones visit the dentist regularly, we like to reward them for being brave at the end of the visit. It's called positive reinforcement, and you can do the same, maybe with a family movie night or a trip to the bookstore after a successful dental appointment.
Come See the Friendly Children's Dentist!
Wondering who's the dentist near me providing soothing, comforting care for children? It's the team at Chaska Dental Center. We can't wait to help your little one love the dentist — request an appointment today!