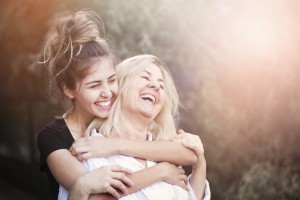 With Mother's Day right around the corner, it's time to reflect on all the wonderful things that she's done for you. She's always put your well-being first before her own—making sure you had cute clothes for school, homecooked meals and snacks, and most importantly instilled healthy dental habits to keep your smile strong and bright. Why not give her the greatest gift, too? Chaska Dental Center has a few special ideas that will not only have your mom smiling more, but brighter too! These gift ideas along with our teeth whitening in Chaska will make for perfect Mother's Day presents.
1.      Upgrade her toothbrush! Go electric.
As you know, brushing can become a boring routine from time to time. That doesn't make it any less important, though! One of the worst things your mom could be doing to her teeth is cutting her dental hygiene routine short because she doesn't look forward to brushing anymore. If your mother doesn't have an electric toothbrush yet, she'll absolutely love getting one this year. Add some spice to your loved one's dental routine!
2.      Make flossing fun for your mom with waterpik.
Many memories of your mom may include her running around extremely busy—maybe sometimes even scattered. It's a real wonder how they have time to keep up with their dental health. Especially with flossing considering that most patients openly admit to avoiding flossing altogether. You can help make flossing quicker, easier, and even more enjoyable for her! This gift will cut your mom's flossing time in half.
3.      Get her teeth professionally whitened!
Is your mother one of those people that avoid pictures? Have you ever considered that it may be because of a discolored smile? Consider all the cups of coffee she had while crazily driving you to school in the morning. Everyday activities eventually take a toll on everyone's teeth, especially busy moms. Surprise your mom with a professional teeth whitening appointment with your family dentist in Chaska!
4.      Every lady loves chocolate!
Maintaining healthy teeth doesn't mean that you must avoid sugar altogether if you indulge in moderation. A box of dark chocolates could be the perfect gift for your mom to snack on! Did you know that the cocoa in dark chocolate works to prevent cavities? Actually, dark chocolate is great for the rest of your body by reducing chances of cardiac arrest, strokes, boosting metabolism, erasing PMS issues (you know you've witnessed your mom mid-mood swing before), and improves your brain function.
Call Chaska Dental Center Today!
Many people will rack their brains trying to figure out a gift that shows how much they care for their mom. Maybe a heartfelt card, maybe a dozen roses, maybe a movie date?  It almost seems like there's nothing good enough, right? Call our Chaska dental office to discuss services your mom may love, truly presenting her with a gift that keeps on giving: a healthier, brighter smile!