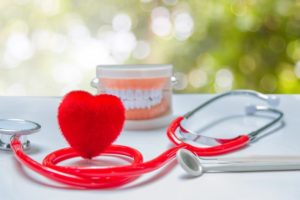 As you finish brushing your teeth, you look into the sink and realize that your gums have been bleeding a little. They look red and swollen, but this small symptom isn't anything to worry about, right? Wrong! Unhealthy gums point to gum disease, and this, in turn, points to trouble for your overall well-being. In fact, gum disease can lead to more serious medical conditions elsewhere in the body, particularly the heart. In this post, you'll learn all about the link between gum disease and hypertension and how you can prevent gum disease in the first place.
How Gum Disease Affects Oral Health
At first, gum disease shows up with seemingly innocuous symptoms—red, swollen, bleeding gums. However, the inflammation-causing bacteria later cause the gums to recede from the teeth and create pockets of trapped plaque and bacteria. The infection then spreads to the supporting tissue and jaw bone, weakening the support and stability they give to teeth. Without professional intervention, gum disease ultimately leads to tooth loss, which can be devastating to a patient's confidence and their daily functions.
How Gum Disease Affects the Heart
Several recent clinical and analytical studies reveal that people with gum disease tend to have significantly higher blood pressure. In fact, those who had moderate-to-severe periodontitis, an advanced form of gum disease, were 22 to 25 percent more likely to develop hypertension. Hypertension is the main risk factor for heart disease, the leading cause of death among American adults.
How does an infection of the gums have such a major impact on your overall health? The harmful bacteria can access the bloodstream and travel to other parts of the body, including important blood vessels and arteries. Inflammation in these areas can constrict blood flow, causing the body to work harder to pump blood through. As a result, you can suffer from high blood pressure and a higher risk of a cardiovascular event like a stroke or heart attack.
Preventing Gum Disease
The best way to keep your gums and your heart healthy is to prevent gum disease to begin with. You can do this by maintaining daily oral hygiene. Brushing twice and flossing once every day prevents plaque and bacteria from settling near the gum line. You also need to visit your dentist in Chaska twice every year for checkups and cleanings to catch what you may have missed on your own. Also, consider taking sips of water throughout the day and reducing your sugar intake to keep these bacteria under control.
Your gums may seem inconsequential, but they can influence your overall well-being and deserve your attention. By taking a more proactive approach for your gum health, you can encourage better heart health in the long run.
About the Practice
Chaska Dental Center is proud to have two skilled, highly trained dentists to help families with gum health. Dr. Thomas Meschke and Dr. Aaron Swingdorf each have years of experience and are dedicated to helping patients achieve a healthy, confident smile that lasts. If you have questions about gum disease or treatment, you can contact Chaska Dental Center by calling (952) 448-4151 or clicking here.