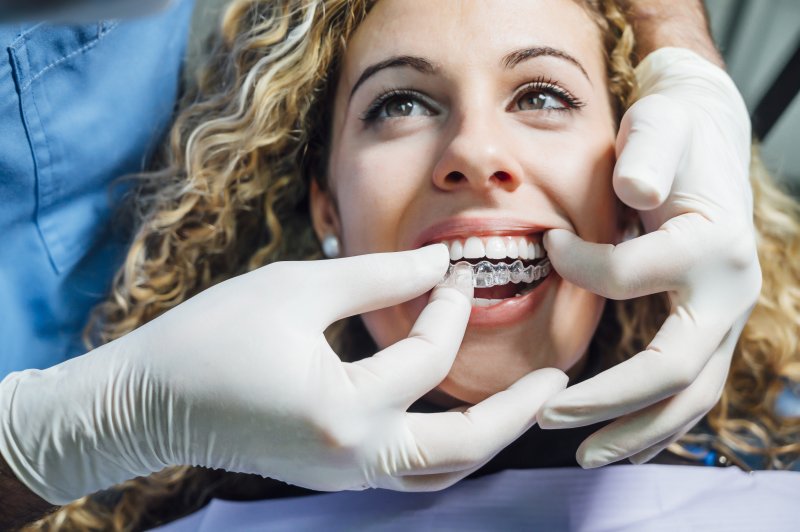 Preparing for orthodontic treatment of any kind can be a bit overwhelming. Once you learn what problems exist within your smile, you must be able to process the timeline for effective treatment as well as understand the steps you must take to maintain results. As a result, it can feel as if getting Invisalign in Chaska is too much to handle. Fortunately, a trusted dentist can minimize your fears by discussing, in detail, what you can expect from start to finish. Read on to learn more about the step-by-step process for Invisalign and why your dentist will be with you from beginning to end.
Your Consultation
The first step in receiving orthodontic treatment with Invisalign is to schedule a consultation with your dentist. It is during this visit that they will discuss your smile goals, examine your teeth and bite, and identify the problem areas that need to be fixed (i.e., overcrowding, gaps between teeth, improper bite alignment).
The reason this particular appointment is longer is also because of the necessary images and impressions your dentist will need to capture. Using advanced dental technology, your dentist will assemble dental X-rays, photographs, and impressions to develop a thorough treatment plan. These images will then be sent to an Invisalign lab where technicians will construct the aligners you will wear throughout treatment.
Receiving Your Clear Aligners
After several weeks, you will return to your dentist's office to retrieve your clear aligners, which will arrive as a set. You will be expected to wear them at least 21 hours each day for 1-2 weeks at a time. This will ensure your teeth continue to move in the right direction.
During this particular visit, your dentist will apply button attachments to your teeth, if necessary, as these will help hold your Invisalign aligners in place and assist in moving teeth at the right pace. They will then show you how to insert and remove your trays with ease as well as go over important information you need to know regarding how to care for your aligners to avoid potential damage.
Regular Follow-Up Appointments
It is necessary while wearing Invisalign to maintain regular follow-up appointments with your dentist. These visits are much quicker than if you were wearing traditional braces simply because there is no archwire to adjust. With Invisalign, your dental team will examine your progress and make any necessary adjustments if needed. If not, you will be free to return home and continue with treatment as normal until it's time to return for another follow-up appointment.
Receiving Your Retainers
The last stage of Invisalign treatment is receiving your customized retainer. Although you will no longer be wearing trays designed to move your teeth, you will shift to wearing an oral device that works to keep your teeth in their new position. You will likely receive a retainer that looks similar to an Invisalign aligner, so you will not need to worry about a metal wire showing when you smile. It may be necessary to wear your retainer full time in the beginning; however, as your teeth become affixed in their new location, you may be able to transition to wearing it only at night.
The process of wearing Invisalign is much more user-friendly than traditional braces. By following your dentist's instructions, you can expect longer-lasting, life-changing results when all is said and done.
About the Authors
Dr. Aaron Swingdorf and Dr. Thomas Meschke understand orthodontic treatment can be daunting. Knowing how to maneuver daily life with braces or clear aligners requires thorough instruction and changes to your lifestyle. However, with Invisalign, they will provide detail information that will make living with clear aligners much easier. From start to finish, you can count on Dr. Swingdorf to administer top-quality care, answering all your questions and address every concern. If you believe you could benefit from Chaska Dental Center's orthodontic assistance, contact us at (952) 448-4151 or visit our website to learn more.
We used the following sources to generate this particular blog article, some of which include: