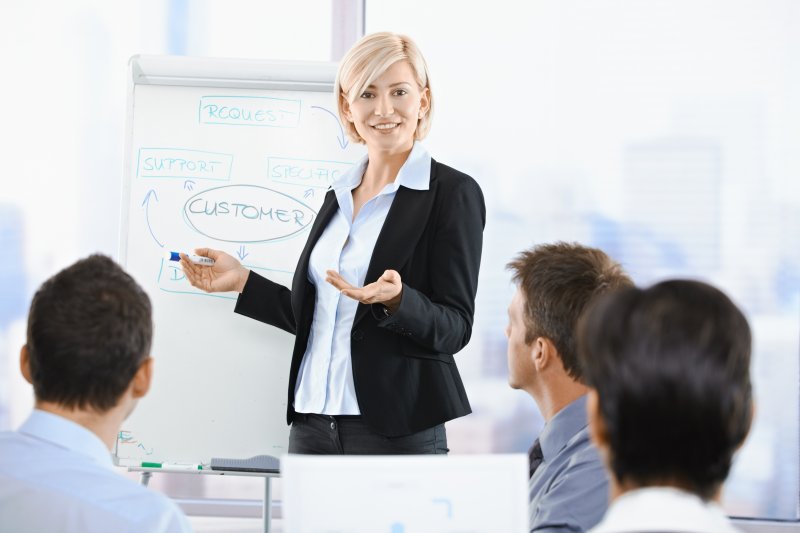 Your smile is often the first thing people notice when looking at you. While you may have already made a good first impression by landing the job of your dreams, you may now find that you no longer feel as confident because of your teeth and how they look. As a result, your career aspirations may suffer. Fortunately, there is a solution that can help turn things around – Invisalign in Chaska. Discover which professions can most benefit from these clear aligners and how they can help you take back your self-esteem.
A Straighter Smile for Work
Invisalign clear aligners are designed to be nearly invisible, allowing individuals to freely pursue orthodontic treatment without compromising their daily appearance. While traditional braces can shine a spotlight on your smile using metal brackets and wires, Invisalign is subtle and uses gentle pressure to keep teeth moving in the right direction.
As a result, many professionals like yourself can feel confident and reassured knowing the responsibilities of the job no longer need to be a deterrent. So exactly which professions can benefit from Invisalign? Here are a few:
Entertainers: Being in front of the camera or on stage makes hiding a smile impossible. Actors, actresses, and stage entertainers all need a straight, beautiful smile to keep audiences captivated by their words and performance, not their crooked or misaligned smile.
Sales: If you are entrusted to make deals with customers or other business people, you will need to appear trustworthy and approachable. A straighter smile can put you one step closer to gaining the trust of the person you're helping and eventually, close the deal.
Entrepreneurs: Individuals who are busy building a business or establishing a network of professionals can benefit from Invisalign because of the up-close contact and personal relationship building that is required. From working with vendors, employees, and financiers, having a smile that gives the impression that you are reliable and personable can make it easier to help get your business off the ground.
Teachers and social media influencers and bloggers can also find Invisalign to be a noteworthy investment because of the time spent in front of audiences of varying ages. It is not only beneficial to your self-esteem but can be a positive influence on others who desire a straighter smile like the one you have.
Why Choose Invisalign for Your Smile?
Depending on your breadth of knowledge as it pertains to Invisalign, you may be unaware of the many benefits these clear aligners offer. Some of the most common reasons people choose Invisalign include:
They're clear and highly undetectable
They're easy to remove, making it a flexible choice when it comes to eating and drinking since the aligners must be taken out beforehand
They're easy to clean and do not require specialized cleaning products
They often produce faster results than traditional braces
Invisalign can give you a chance to excel in areas of your job that you never thought were possible. If you are ready to take back your smile and start taking on new opportunities, don't hesitate to talk to your dentist about clear aligners.
About the Authors
Dr. Aaron Swingdorf and Dr. Thomas Meschke are here to help you take back your smile using Invisalign. Instead of resorting to metal brackets and wires that can make daily life more difficult, especially as a working professional, you can trust Invisalign to go to work to realign your smile without compromising your daily appearance. If you want to achieve life-changing results with clear aligners, contact us at (952) 448-4151 or visit our website to learn more.
We used the following sources to generate this particular blog article, some of which include: