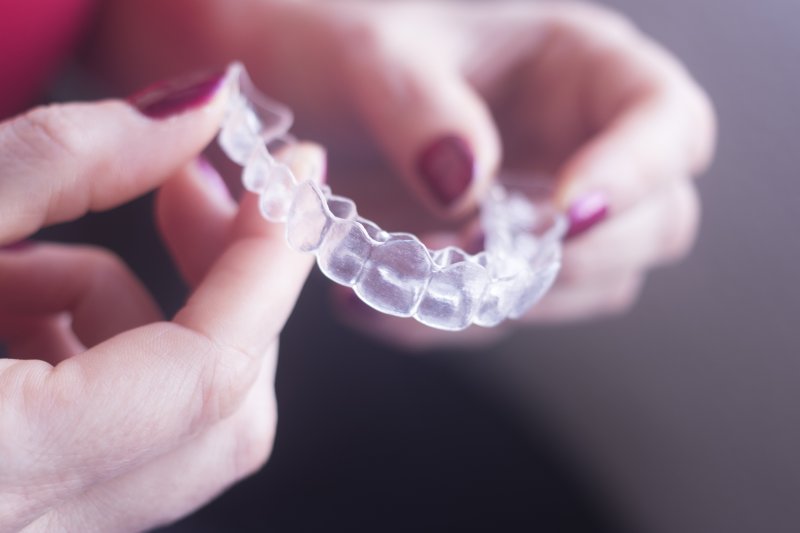 Whether you are living with an overbite, underbite, crossbite, or even an open bite, Invisalign in Chaska is considered one of the most versatile solutions for fixing common bite problems. Instead of relying on traditional metal braces that can negatively impact your daily appearance, these customizable clear aligners are capable of applying the appropriate amount of pressure to shift teeth in the right direction and realign the most severe bite. To better understand the process, let a local dentist explain how you can achieve dramatically noticeable results with Invisalign.
What is an Overbite?
Considered to be one of the more common bite alignment problems among children, teenagers, and adults, the term "overbite" is often referred to by dentists when describing how an individual's upper teeth protrude outward over their lower teeth.
According to a healthline article written by Corey Whelan, overbites can occur for many reasons, some of which include:
Sucking one's thumb
Nail-biting
Tongue thrusting
Overuse of a pacifier
Long-term bottle use
Chewing on inanimate objects like pens or pencils
In younger patients with overbites, the ability to address this issue before their facial and oral structures have finished growing is significantly easier; however, it is unlikely most dentists will recommend Invisalign for individuals under the age of 12 simply because of the increased responsibility that comes with wearing such a flexible orthodontic solution.
The good news is that even teenagers and adults can realign their overbite and other malocclusion issues with Invisalign.
How Invisalign Works to Address Common Bite Problems
Invisalign clear, plastic aligners are fabricated using SmartForce® material that ensures improved fit and comfortability. When learning you are eligible to receive this method of orthodontic treatment, your Invisalign Preferred Provider will first capture X-rays, digital images, and impressions of your smile before creating a personalized treatment plan that will detail how your teeth will move into their desired position.
The images of your teeth will be sent to an Invisalign lab where technicians will build your series of aligners. Once they arrive, you will return to receive your trays and detailed instructions. You will be required to wear your aligners at least 20-22 hours each day for 1-2 weeks. Once you complete one set, you will exchange them for the next in the series until you are finished with treatment.
While wearing Invisalign to fix your bite alignment problem, you will likely need to wear what are known as "elastics" or rubber bands. Often used for complex tooth movements, your dentist will place "buttons" or attachments onto designated teeth, many of which appear natural in color. By connecting the bands to these attachments, you will begin to notice your teeth moving in the appropriate direction, effectively realigning your bite.
It is possible that you may not need these attachments throughout the entire course of treatment; however, you can expect your dentist will decide when it is time to remove them. As long as you commit to wearing your aligners for the designated amount of time each day, you can expect to achieve the desired results in less time than if you were to wear traditional metal braces.
Living with an overbite no longer has to be your reality. Instead, with the help of Invisalign, you can enjoy a healthier smile that is more aesthetically pleasing and allows you to exude the confidence you deserve.
About the Authors
Dr. Thomas Meschke and Dr. Aaron Swingdorf lead a team of qualified professionals at Chaska Dental Center. Combining years of knowledge, experience, and training, their ability to provide viable and effective orthodontic solutions is evident through the number of positive reviews they've received from satisfied patients. As an Invisalign Preferred Provider, Dr. Swingdorf uses Invisalign clear aligners to address issues of overcrowding, spaces between teeth, and poorly aligned bites. As a result, he can repair and improve smiles quicker than ever before. If you are interested in learning more about Invisalign, contact us at (952) 448-4151 or visit our website.
The following sources were used to generate this blog article: