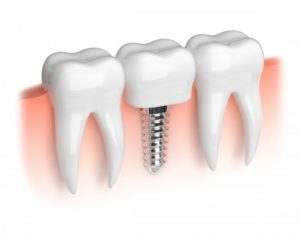 Are you missing or on the verge of losing some teeth? Dental implants provide the best answer to missing teeth in Chaska. This replacement option takes the place of the lost tooth's root as well as the visible crown, which provides a number of benefits for your oral and overall health. Below, find more information about the serious side effects of tooth loss, and how dental implants can help to protect you from them.
What Happens When You Lose a Tooth?
Your tooth structure is made up of two major parts: the first is a supportive root which is hidden beneath the gum line. This structure brings important blood flow and nutrients to the jaw bone. Just as important above the root is the crown — or the visible portion of the tooth which helps you chew and speak. Of course, when you lose a tooth, you are missing both the root and the crown. Most tooth replacement options only take care of the latter. Without the tooth's root and the stimulation and nutrients it needs to thrive, however, the jaw bone will gradually shrink. Further tooth loss is imminent — unless a comprehensive tooth replacement is achieved.
Dental Implants Are Nature's Rival
Fortunately, dental implants are a comprehensive option which takes care of the missing tooth's root as well as the tooth. The implant post is made of titanium, a biocompatible material which generates the growth of bone tissue to actually fuse together with the jaw. Once this process (known as "osseointegration") has occurred, the implant is just another part of the body — and the jaw has the nutrients and stimulation it needs to stay healthy and whole.
Thanks to this whole-tooth approach, dental implants can help to…
Retain youthful facial shape and structure
Reduce the risk of further tooth loss
Support a balanced, nutritious diet
Promote clearer speech
Improve self-confidence and quality of life
Are You a Candidate for Dental Implants?
Many adults who are on the verge of losing teeth are indeed eligible for dental implants. The only way to find out if you, too, can benefit from this comprehensive tooth replacement option is to schedule an appointment with your implant dentist to discuss dental implants in Chaska. Patients should typically be in solid oral and overall health to successfully undergo the dental implant procedure. If you are a good candidate, you can probably look forward to getting started with your tooth replacement right away! There is no reason to wait to regain your beautiful, complete smile.
Meet the Practice
Chaska Dental Center has been a trusted source of family dental care for over 70 years. They offer a full list of services for patients of all ages, including quality dental implant dentistry. To learn more about dental implants, you are invited to contact the office at (952) 649-5159.