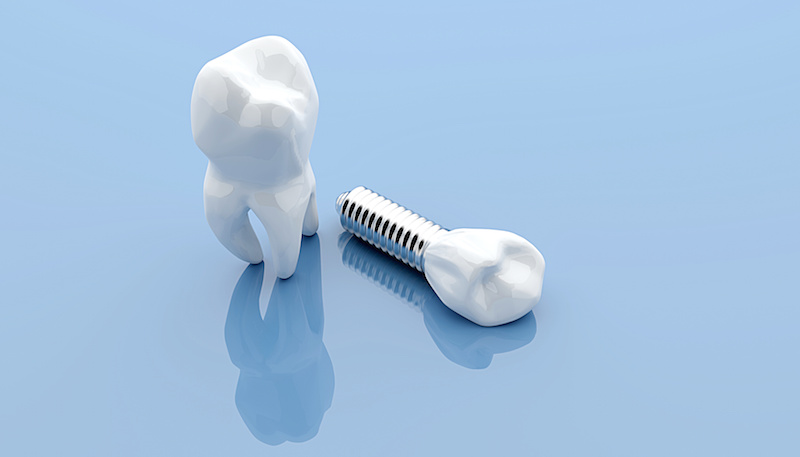 Dental implant procedures have over a 95 percent success rate, so it is rare that you would experience a dental implant failing in Chaska. However, that 5 percent chance still remains. If you think an implant post is loose, there may still be time to save it if you take the right steps. Keep reading to find out more about why that might happen and what you should do next.
Why Dental Implants May Fail
The most common cause of a failed dental implant is poor dental hygiene. If an infection caused by oral bacteria develops between the implant post and the gums, it will eat away at the healthy bone tissue and cause the post to become loose and fall out. Smoking can also accelerate the risk of implant failure. Less common is an infection that develops at the time of implantation; to avoid this risk, it is very important that you visit a dentist with significant experience in implant procedures. Brushing and flossing your teeth and visiting your dentist every six months will help to keep your dental implants clean and healthy over a lifetime.
Signs of a Failing Dental Implant
A dental implant is at the greatest risk of failing in the weeks and months after the procedure. However, there is always a slight risk that a problem could develop even after this period. Watch out for the following warning signs that you have a problem with a dental implant:
The implant feels loose or like it is wobbling around
The gum tissue around the implant is red or swollen
You feel pain, sensitivity, or discomfort around the implant
Chewing on the side with the implant is uncomfortable
Anything else that just does not feel quite right
How to Save Your Dental Implant
Get in touch with your implant dentist or oral surgeon as soon as you notice an implant becoming loose or uncomfortable. There may still be time to rescue the post if you act right away. Do not touch or wiggle the tooth, as this can accelerate the loss of bone tissue and cause the implant to fall out. Sometimes, the implant-supported crown or bridge may need to be replaced. Otherwise, your implant dentist may recommend removing the implant post, allowing the jaw to heal, and replacing it. A bone graft may also be necessary to increase the volume of the jaw bone.
Are your dental implants in Chaska healthy and stable? If you suspect you have a problem with one of yours, do not hesitate to get in touch with your implant dentist.
Meet the Practice
Chaska Dental Center offers award-winning dental care for families and neighbors in Chaska, MN. Among their high-quality services are dental implant placement, restoration, and salvation. To discuss the health of your dental implants, you are invited to contact the office by calling (952) 448-4151.