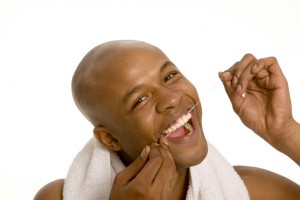 Ok, it's time to fess up. Are you doing the daily four? Wait, what is the daily four? It's the catchy name for the four simple things you can do to improve your dental and oral health every day. National Dental Health Month is a couple of months away, and this year's focus is on brushing, flossing, rinsing, and chewing, or the daily four. Combine those simple habits with a regular dental cleaning in Chaska and you'll be smiling healthily for years to come!
Let's Do the Daily Four
For National Dental Health Month, we want to start the conversation about the simple things you can do to improve your dental and oral health. Everyone knows the basic steps for preventing tooth decay and gum disease — but are you really doing them as you should? Gum disease has been linked to a number of serious health issues, including heart conditions, respiratory problems, premature birth, and others. More than half of Americans have gum disease, but it is easy to prevent. How can you keep your gums healthier? You guessed it — by doing the daily four.
Brush: Make sure you are brushing your teeth for two minutes, after each meal or at least twice a day. Use a soft bristled toothbrush and a non-abrasive toothpaste for safe, effective cleaning.

Floss: No matter how well you brush, there are some areas your toothbrush just can't reach. Gently floss between each of your teeth at least once a day. Start by wrapping 18 inches around your middle fingers, leaving a space in the middle to work with. Work the dental floss up and down between and around the base of each tooth. Use a new bit of floss each time to avoid redistributing bacteria throughout the mouth.

Rinse: Add a mouthrinse to your dental hygiene routine for maximum cleaning and freshness. Your mouth is made up of more than just your teeth — and a mouthrinse removes the plaque and biofilm that brushing and flossing don't reach.

Chew: Did you know that chewing a sugar-free gum can do more than just freshen your breath? People who are in the habit of popping a piece of sugar-free gum in their mouths after meals and throughout the day are more likely to have healthier teeth and gums. That's because chewing activates the salivary glands, helping to rinse away food particles and bacteria.
Add Regular Dental Cleanings, Too
In addition to the daily four, make sure you are visiting your dentist in Chaska every six months for a routine checkup and cleaning. If you're taking good care of your teeth and gums in the time between appointments, these preventive visits will be a breeze. Just come in and let us remove any plaque and tartar that has had the chance to build up. We'll also check to make sure your teeth and gums are healthy and infection-free. Early detection helps us perform the most conservative dentistry, saving you from the stress, hassle, and potential discomfort of treatments like root canal therapy or surgical periodontal therapy for gum disease.
When was your last visit to Chaska Dental Center? If it's been more than six months, don't put off your preventive dental care for another minute. Contact us to schedule an appointment today!