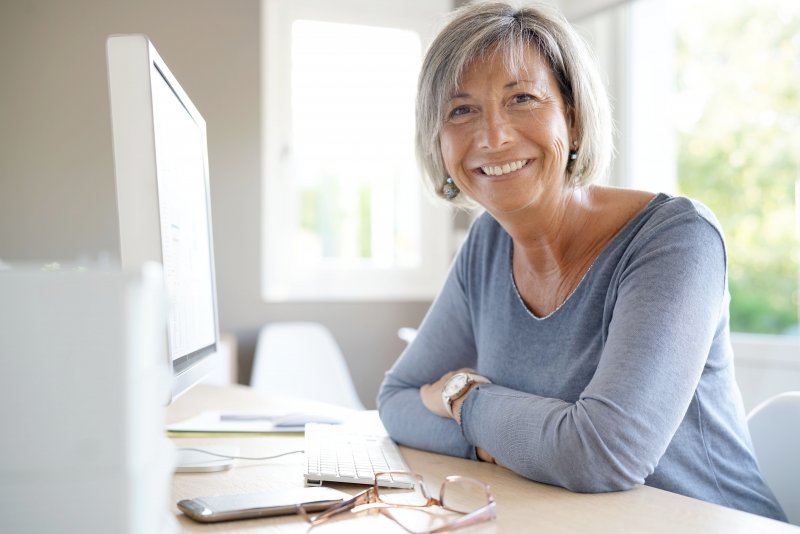 Learning you are qualified to undergo dental implant surgery in Chaska can be an exciting realization. You're finally getting new teeth that are permanent and can last 30 years or longer. But as you begin to consider your upcoming procedure, you begin to wonder how long you'll need to request off work. Will you only need to take one or two days, or should you hold off on your family vacation because you'll need up to one week? A local dentist is here to explain how much time you can expect to spend at home before you can return to the workplace.
Post-Dental Implant Surgery: When You Can Return to Work
The quick answer to this question is an estimated one to two days; however, this often varies from patient to patient. It is important to remember that no two cases are alike and because of the various factors that can determine the potential recovery time, you may or may not need to take additional days off work.
When preparing to inform your employer about your absence from work, your dentist will likely explain what can potentially cause you to spend more time at home after your surgery:
The more dental implants that must be put into place, the longer your recovery time. Having only one or two implant posts inserted can allow for an easier healing period; however, if you require between four and six for a set of implant dentures, you may find you need to take more than a couple of days off work.
If you require preliminary treatment such as bone grafting, this can cause you to spend additional time recovering. The reason is that your bone must strengthen over time and create a stronger foundation for your dental implants. By going into the gums and jawbone more than once, you'll need ample time to heal.
As long as you closely adhere to the guidelines provided to you by your dental team, you shouldn't experience any complications after your surgery. However, if you do not keep up with your oral hygiene routine, eat foods that should be avoided, and pick up your smoking habit earlier than suggested, you could be faced with more time away from work because of the problems that can form and potential implant failure.
Why Healing is Important
Osseointegration is an essential part of the dental implant process. Allowing the bone and dental implants to fuse correctly ensures a solid foundation for your new teeth, which is what helps them stand apart from other types of tooth replacement.
By rushing the process, you run the risk of damaging your implants and causing additional harm to your oral health. Unlike dental bridges and dentures, dental implants take time to fully integrate.
If you want a smile that lasts 30 years or more and teeth that don't slip or fall out when eating or speaking, you'll take the time to secure your investment and allow your mouth to fully heal.
About the Authors
Dr. Thomas Meschke and Dr. Aaron Swingdorf are dental professionals who believe in providing exceptional care to patients living in Chaska and its surrounding communities. When an individual arrives suffering from tooth loss, dental implants can be a reliable and effective solution. As they explain the process of placement, they'll also recommend how much time you'll need to take off work to ensure a healthy and positive recovery. Contact us at (952) 448-4151 or visit our website to learn more.
We used the following sources to generate this particular blog article, some of which include: