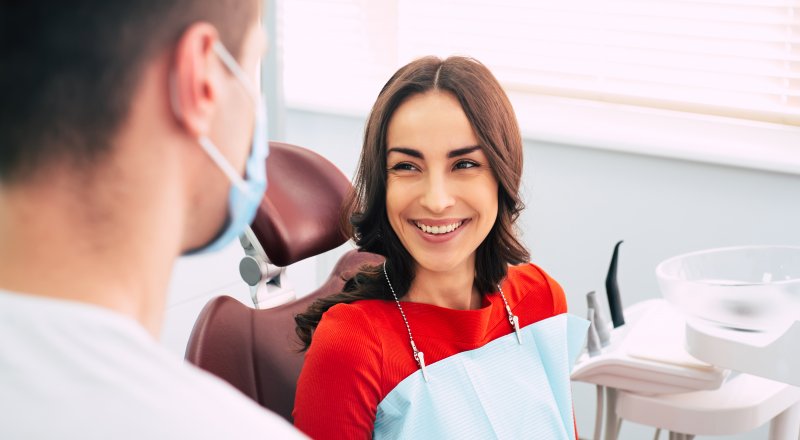 Are you nervous about your next dental checkup? Maybe you're indifferent. Or maybe you'd rather cancel than face any potential judgment. Everyone views the dentist's office differently, and while some may have no issues sitting in the dentist's chair, others may feel the complete opposite. Fortunately, dentists understand the worry some patients experience, which is why local dental experts are here to share four tips to make your next appointment smoother for both you and your dentist.
Make Sure to Arrive on Time
Dentists are busy, and they strive to give each patient the time they deserve. This is why it's important that you arrive on time. In fact, it's better to wait 5 or 10 minutes in the lobby than be late. This ensures that all necessary paperwork is updated and that you are guaranteed the appropriate amount of time with your dental team and dentist. It can also be helpful to arrive early if you suffer from any kind of dental anxiety, as this allows you to calm down instead of feeling rushed.
Don't Lie
Believe it or not, your dentist knows when you're lying. That is when you're talking about your oral hygiene habits. It's better to be honest and upfront about not flossing or brushing twice a day than make them think that you do. The look of your mouth and how it handles when undergoing a checkup and cleaning make it quite obvious whether you're truly doing what you say you are while at home. If it's not something as obvious as the status of your oral health that you're lying about but instead, your overall health, this can put you at risk for more serious problems down the road. Your dentist is your ally, not a foe, so make sure you're honest about your general health.
Share Any Concerns You Have
During your dental appointment, you shouldn't be made to feel as if the dentist has to do all of the talking. You want to make sure that if you have any concerns, you are free to voice them. Should you feel as if you are unable to speak, you may want to consider another dental office. Most dentists, though, want to know if their patients are concerned or worried about a particular oral health problem or have questions about a particular treatment option. This you time to ask questions, so it can be helpful to bring a list with you to your appointment.
Determine How You Will Pay
If you have dental insurance, make sure you have your card with you so that you can give the information to your dental team the moment you arrive. If you plan to pay any deductibles or other fees during your visit, make sure you understand your options. This may mean calling your dentist's office ahead of time to discuss alternative payment options if you are uninsured. A member of the team will be happy to go over the information with you so that when you arrive, you are ready to pay the designated amount for your visit.
By keeping these tips in mind before your next appointment, you will enjoy a much smoother and more seamless visit. Your dentist will appreciate your preparation and honesty, providing you with the most effective solutions to ensure you maintain a healthy smile.
About the Authors
Dr. Thomas Meschke and Dr. Aaron Swingdorf believe in providing patients with high-quality solutions that lend beautiful, healthy results. As dentists who believe in preventive care, they encourage patients to keep their six-month dental checkups and cleanings and offer valuable tips to ensure seamless, successful visits. If you need to see a dentist for a six-month checkup, contact us at (952) 448-4151 or visit our website to learn more.
We used the following sources to generate this particular blog article, some of which include: