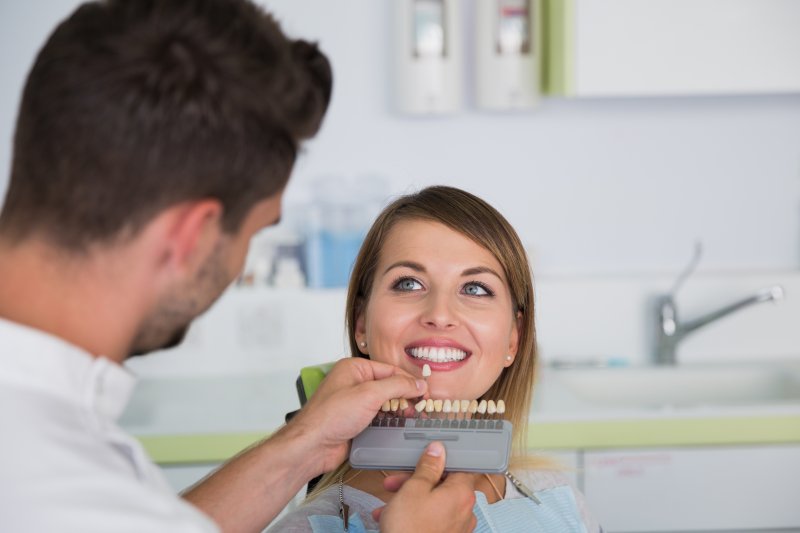 Cosmetic dentistry is a specialized focus that consists of various services designed to address the aesthetics of a person's smile. Whether the goal is to shift the alignment of your teeth, blast away stains, or alter the size and shape of your pearly whites, a skilled and trusted dental professional can transform your appearance and give you the confidence you deserve. As you contemplate how you would like to change your smile, read on to learn more about the different cosmetic dental treatments in Chaska to determine which one might be right for you.
The Benefits of Cosmetic Dentistry
It's no secret that your smile is the first thing people notice when they look at you. Whether you are preparing for a job interview or getting ready for your 20-year high school reunion, the way your teeth and gums look can leave a lasting impression. According to an article by Columbia Dental, various studies suggest that individuals with aesthetically pleasing smiles not only appear more attractive but also seem "more intelligent and trustworthy." Not to mention, when it comes to professional gains, a more beautiful smile can mean greater opportunities for employment and higher pay.
Choosing the Right Cosmetic Treatment
Now that you are more familiar with what a beautiful smile can do for you, which method of treatment will provide the greatest results? Below is a list of available services many cosmetic dentists provide.
Veneers
Versatile in their ability to cover many of the most common smile imperfections, veneers are thin, porcelain coverings that are customized to fit over the surface of your teeth. Capable of transforming your complete smile or only those teeth that are most visible, they can hide stains, discoloration, chips, cracks, minor misalignments and gaps, and misshapen teeth. As a permanent cosmetic solution, they are much more stain-resistant than traditional tooth enamel and can last a decade or more with proper care.
At-Home Teeth Whitening
If years of drinking coffee have left stains on your pearly whites, at-home teeth whitening can help to blast away discoloration on and below the surface of your tooth enamel. Using custom-made whitening trays and a powerful, high-grade bleaching gel, your teeth can appear up to 8 shades brighter in about two weeks.
Metal-Free Restorations
Instead of believing that traditional amalgam is the only way you can repair a decayed tooth, your cosmetic dentist in Chaska can provide you with a metal-free option. Whether you need a crown, bridge, inlay, onlay, or filling, these aesthetically pleasing restorations can be crafted to blend in seamlessly with your natural smile all while better protecting against future reinfection or damage.
Cosmetic Bonding
If you want a less invasive, more affordable cosmetic solution to treat your minor imperfection, you cannot go wrong with cosmetic bonding. Using composite resin that is matched to your natural tooth color, this malleable substance can be shaped and sculpted directly onto your tooth enamel, effectively hiding your smile's flaws and leaving you with a showstopping smile in less than an hour.
Gum Lifts
If your teeth are not the reason you're seeking cosmetic treatment, it may be your gums. Do they appear uneven? Is there too much tissue creating what looks to be a "gummy smile?" If so, a gum lift can easily reshape your gum line in a way that creates better symmetry and a more pleasing aesthetic. Also, the use of a soft tissue laser makes this one-appointment procedure quick and painless.
Smile Makeovers
If your smile possesses multiple imperfections and problems, you may think there is no viable solution. Fortunately, with a smile makeover, your cosmetic dentist can create a treatment plan that consists of various services that can be completed over multiple visits.
Invisalign®
Using clear aligners that are customized according to the progression of your smile, a cosmetic dentist can provide you with the Invisalign orthodontic system. When worn for 20-22 hours each day, you can watch your teeth move in the right direction, ultimately creating a more perfectly aligned smile in less time than it would take with traditional braces.
Opting for cosmetic dentistry can not only improve your appearance but also boost your confidence like never before. With so many options available, there's no reason to wait!
About the Authors
Dr. Thomas Meschke and Dr. Aaron Swingdorf believe in providing patients with high-quality solutions that lend beautiful results. Skilled in the art of cosmetic dentistry, their ability to provide a breadth of services designed to improve and enhance a person's appearance is evident by the countless patients who have expressed their satisfaction with their results. If you are looking to say goodbye to the imperfections plaguing your smile, contact us at (952) 448-4151 or visit our website to learn more.
We used the following sources to generate this particular blog article, some of which include: