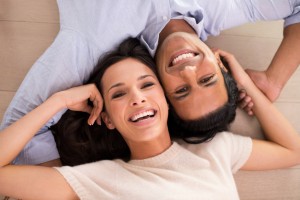 You deserve a smile that looks as great as it feels. Unfortunately, if chips, stains, cracks, or other imperfections affect your front teeth, you're probably suffering from low smile confidence. Did you know these and other flaws are fixed with a single cosmetic treatment? Chaska porcelain veneers or Lumineers are a wonderful choice for anyone looking to improve the appearance of their smile. Learn more from the team at Chaska Dental Center today!
How Do Porcelain Veneers Work?
Ultra-thin coverings made of dental porcelain, veneers instantly transform the size, shape, and color of imperfect teeth. They're bonded securely onto the surface of the teeth that show when you smile. Traditional veneers require minimal preparation of the tooth, or the slight buffing of the tooth enamel to make room for each veneer. Chaska Dental Center also offers Lumineers, which require no tooth preparation before application.
Porcelain is a material that looks, acts, and feels just like your natural tooth enamel. The only difference? Porcelain is also highly stain-resistant, so your veneers will stay the same beautiful shade of white from the first day, for years to come. You might think of them as permanent teeth whitening.
What Do Porcelain Veneers Fix?
Dental veneers can be used to correct a number of smile imperfections, including:
Chipped or broken teeth

Teeth with irregular surfaces

Misshapen teeth

Slightly gapped or misaligned teeth

Stained or discolored teeth that have not responded to teeth whitening treatments
Most patients are good candidates for the porcelain veneer treatment. Gum disease and tooth decay, however, should be treated in advance of any elective dental procedure.
Porcelain Veneers and Lumineers: What's the Difference?
While porcelain veneers and Lumineers offer the same end results — beautifully transformed teeth — there is one significant difference between the two treatments.
Because traditional porcelain veneers require preparation, or buffing, of the tooth enamel, you will always need something covering your teeth after you've had veneers. Lumineers, however, require no tooth preparation. If you'd like to keep the option of returning to your natural teeth someday, Lumineers may be the best choice for you.
Wondering whether traditional veneers or Lumineers are the better choice for your smile? You and your dentist at Chaska Dental Center can discuss your unique situation as well as your desires with porcelain veneers to help you decide which may be the best choice for you.
Let's Talk About Your Smile Transformation!
Why don't you get in touch with Chaska Dental Center to discuss your options in porcelain veneers? Confident smiles lead to happier, better lives — and we can't wait to help you reveal your most dazzling teeth. Contact us to schedule your appointment today!