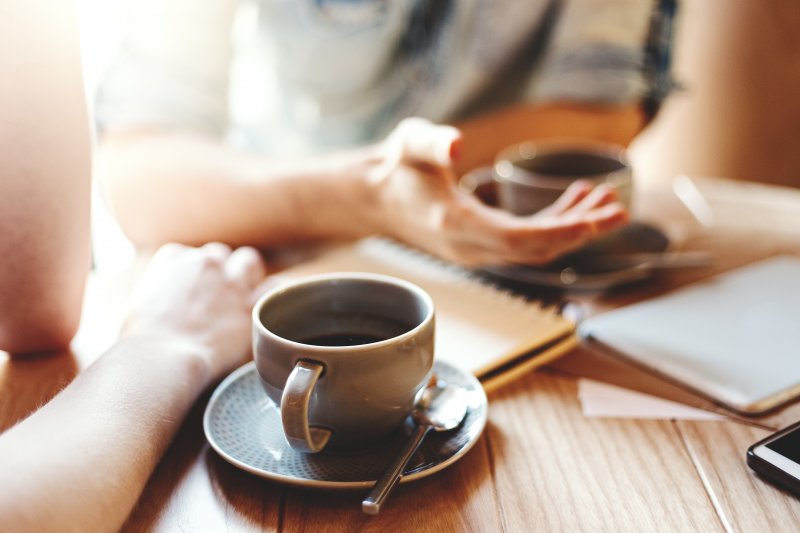 No one wants to learn they have cavities. These small holes that form within the tooth enamel can cause immense pain while also requiring timely and costly restorative care. If you're like the millions of people who are looking for ways to minimize the risk of dental caries and maintain a healthier smile, you might be surprised to learn of two beverages that can help – coffee and green tea. Learn more about their benefits and how you should approach consuming them to avoid the potential for stains.
What Makes Coffee a Cavity Fighter?
Not only is it one of the most widely consumed beverages among adults in the United States, but it is what many people turn to when needing a boost of energy to kickstart their day. Because of its jolt of caffeine and variety of flavors, it should come as no surprise that coffee houses need not worry about their businesses being in jeopardy.
But apart from the immediate benefits coffee can provide (i.e., mood elevation and energy), it is also known to fight off cavities. Containing many helpful antioxidants, it also has antibacterial activity and remains a combatant against Streptococcus Mutans, which causes cavities. When roasted, it reduces the chances of harmful bacteria adhering to tooth enamel, making it less likely for caries to form. However, this is only possible when additives are not incorporated (i.e., creamers, sugars).
How Green Tea Knocks Out Dental Decay
Green tea may not be as popular as coffee but for those who prefer a less jolting beverage in the morning or afternoon, its unique contents can be beneficial for the mouth. Containing compounds that fight bacteria and inflammation, green tea also reduces acidity inside the oral anatomy to minimize the risk of plaque formation and ultimately, cavities.
It is also evident that green tea can help lower the possibility of gum bleeding, which is a common symptom associated with periodontal disease.
How to Avoid Stains When Consuming Coffee and Green Tea
If the idea of drinking regular coffee and green tea helps you to feel more confident in maintaining a healthier smile, you should be mindful of one thing – how you consume these beverages.
While they help combat decay, they can cause stains if you're not careful, which is why you are strongly encouraged to drink them with a straw. This will limit the exposure of the liquid to your teeth, reducing the risk of discoloration over time.
So, fill up your morning mug or cup with your favorite tea or coffee and prepare to not only enjoy greater energy throughout your day but also have peace of mind knowing your teeth are protected from dental decay.
About the Authors
Dr. Thomas Meschke and Dr. Aaron Swingdorf believe in providing patients with high-quality solutions that lend beautiful results. Offering preventive solutions to help individuals take better care of their teeth and gums, they deliver helpful suggestions that encourage healthier eating and drinking habits to minimize the risk of dental decay and gum disease. Contact us at (952) 448-4151 or visit our website to learn more.
We used the following sources to generate this particular blog article, some of which include: