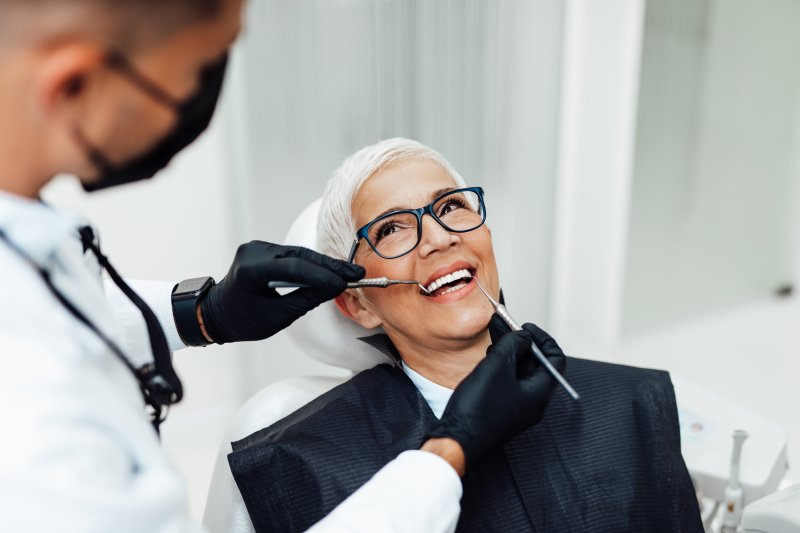 Now that your dental implants are firmly in place, it's important that you take the proper steps to care for your new smile. While it is true that these prosthetics can last 30+ years, they will not successfully remain in place if you do not commit to good oral hygiene and regular dental checkups and cleanings. But there is more to caring for dental implants. To learn what you can do to safeguard your smile for decades to come, read on.
What Should You Do with Dental Implants?
Many people assume that once you have dental implants, you no longer need to continue brushing, flossing, or visiting the dentist. After all, they're artificial, right? While it is true that dental implants cannot develop cavities, your mouth remains susceptible to other oral health concerns, especially as it concerns your gums and any remaining healthy teeth.
To keep your dental implants in the best possible shape, make sure that you:
Brush your teeth in the morning, at night, and after every meal. This will help to remove bad oral bacteria that might try to infect gum tissues or harm natural teeth.
Opt for a non-abrasive toothpaste, as regular versions can scratch your restorations and cause potential damage over time.
If regular flossing is too difficult, try a water irrigator that targets hard-to-reach areas so that the areas between your teeth remain free of plaque and other damaging particles.
Try to limit your sugar intake, as too much of it can lead to tooth decay and gum disease, which can have a devastating impact on your dental implants.
Instead of taking bigger bites, cut your food up into smaller pieces so that your implants remain strong for as long as possible.
Keep visiting your dentist every six months to ensure that your artificial and real teeth are damage-free and disease-free.
What Should You Not Do with Dental Implants?
Apart from the list of things you should make sure that you do with dental implants, there are also things you need to avoid, such as:
Continuing or picking up old habits like smoking, drinking excessive alcohol, forgoing regular dental hygiene, and using your teeth as tools.
Skipping visits with your dentist.
Engaging in physical activity during the healing phase of treatment, as this can delay your results and make recovery much more difficult.
Eating hard or crunchy foods after initial placement, as this places additional pressure on your implants, which can cause them to dislodge and ultimately fail.
Dental implants have the potential to change your life for the better, but you must commit to giving them the attention and care they deserve. In doing so, you'll enjoy their many benefits as you move through life.
About the Authors
Dr. Thomas Meschke and Dr. Aaron Swingdorf are dentists in Chaska who are committed to helping individuals take control of their smile and oral health. With dental implants that effectively replace missing teeth, these prosthetics are known to last decades if not a lifetime and can change the way people live their lives. If you are looking to pursue dental implants and want to know how to properly maintain your new smile, contact us at (952) 448-4151.
We used the following sources to generate this particular blog article, some of which include: