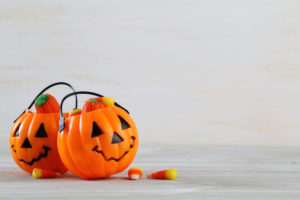 Whether you're trick-or-treating the weekend before Halloween or on the day itself, come November 1, your house is likely going to be full of candy galore. It's an exciting time to be a kid, but why not share the wealth? This year, Chaska Dental Center is excited to join Operation Gratitude and participate in candy give-back for our troops on November 1. Keep reading to learn the details — and why it's a great idea to participate!
About Candy Give-Back
Operation Gratitude is an organization that sends care packages to our troops stationed abroad. Inside each box is a handful of candy for a little taste of home — and the biggest source of these comforting treats is from candy buyback after Halloween! Groups like ours collect leftover candy from the community and then send straight to the organization, where it is packaged carefully into a box and sent to veterans, first responders, and deployed troops.
It's easy to participate with Operation Gratitude in Chaska. On November 1, simply bring your child's leftover candy to our office during our opening hours. We will buy it back at a rate of $1 per pound, up to an impressive 10 pounds, and then send the haul straight to Operation Gratitude. It's a win-win-win for you, your child, and our wonderful servicemembers who do such important work for our country.
Protecting Your Child's Smile
Of course, it's fantastic to have the chance to do something great for veterans, first responders, and deployed troops, but this candy give-back is also important for your child's smile. Kids are most vulnerable to cavities between the ages of 6 and about 14 — which are also the prime trick or treating years. Allowing your child to select their favorite sweet treats and then sending the rest of the candy away is a great way to keep them from over-indulging and putting their oral health in harm's way.
In addition to participating in candy give-back, here are some other tips for ensuring your child's smile stays healthy during the sugariest time of year:
Monitor their brushing and flossing habits after eating candy

Limit candy consumption to one area of the house to prevent over-indulging

Using ziplock bags, separate the candy you keep into daily limits (i.e. 2 to 3 pieces of candy per day, depending on size)

Talk to your child about the importance of eating a nutritious, low-sugar diet year-round

Schedule a checkup and cleaning during November or December!
Halloween can be a scary time for a child's smile, but it doesn't have to be. Follow these tips and take part in our candy give-back program to keep your favorite set of teeth happy and healthy for the long-haul!
Meet Us
Chaska Dental Center offers high-quality preventive, restorative, and general dentistry services for patients of all ages. We encourage all families to take part in candy give-back on November 1! To learn more about the program or to schedule a post-Halloween checkup and cleaning, don't hesitate to get in touch with our office at (952) 448-4151.