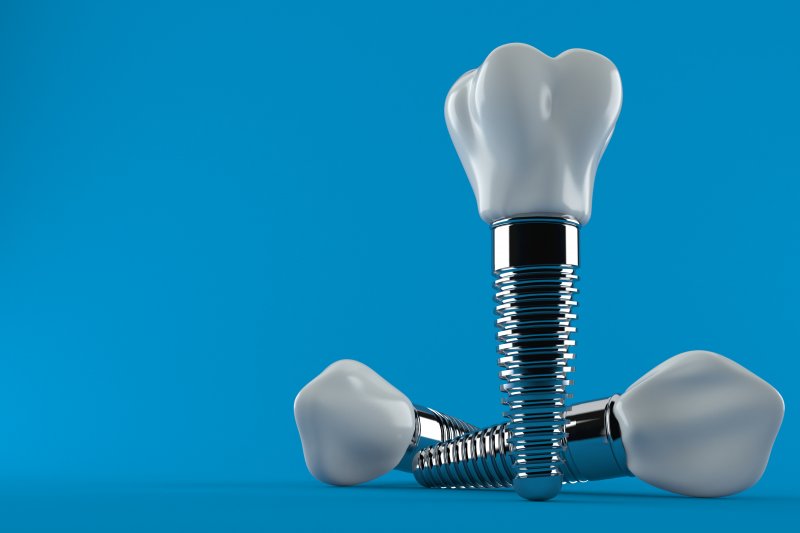 When learning you need to replace your missing teeth, you immediately decide that you want a solution that is durable and can withstand normal, daily wear and tear. The idea of replacing dentures or dental bridges sounds unappealing, so you turn to dental implants as your preferred method of treatment. But are dental implants stronger than natural teeth? To find out what kind of quality and reliability you can expect with these prosthetics, a team of dental experts is here to explain.
Tooth Enamel vs. Dental Implants: Which is Stronger?
Depending on the experts, it is believed that as a method of restorative care, dental implants tend to be stronger than natural teeth. The reason is that although enamel is considered to be the hardest substance found in the body, it wears down over time, making it more susceptible to breakage.
However, once replaced with dental implants, these new teeth cannot decay and are highly durable against normal wear and tear. As a result, this makes them stronger, allowing them to potentially last a lifetime.
Where Does an Implant's Strength Come From?
A majority of dental implants are made from titanium or zirconia. Both are known for their ability to fuse with bone. This foundational support is what attributes to their strength. Once integrated with the bone tissues, dental implants create a solid base for future restorations.
No matter if it is supporting a crown, bridge, or denture, these prosthetics can remain firmly intact for decades or the rest of a person's life. Much of this is dependent on how well an individual takes care of their smile.
What Can Be Done to Ensure the Health & Longevity of Dental Implants?
To avoid possible dental implant failure and keep these prosthetic teeth from deteriorating over time, it's important that individuals remain committed to maintaining optimal oral health. This can be accomplished by:
Pursuing optimal oral hygiene habits at home (i.e., brushing, flossing, rinsing regularly)
Visiting the dentist's office every six months for cleanings and checkups
Eating a diet full of healthy, nutrient-rich foods
Limiting the amount of sugars and starches that are consumed
Wearing a protective mouthguard while sleeping (if prone to bruxism) or playing sports
Giving up bad habits like smoking, using teeth as tools, and biting one's fingernails
If you want new teeth that offer greater stability and durability, you cannot go wrong in choosing dental implants. And by keeping these helpful tips in mind, you can expect to enjoy your permanent smile for longer.
About the Authors
Dr. Thomas Meschke and Dr. Aaron Swingdorf are dentists in Chaska who are committed to helping individuals take control of their smile and oral health. With dental implants that effectively replace missing teeth, these prosthetics are known to last decades if not a lifetime and can change the way people live their lives. If you are looking to pursue dental implants and want to know how to maintain your new smile, contact us at (952) 448-4151.
We used the following sources to generate this particular blog article, some of which include: