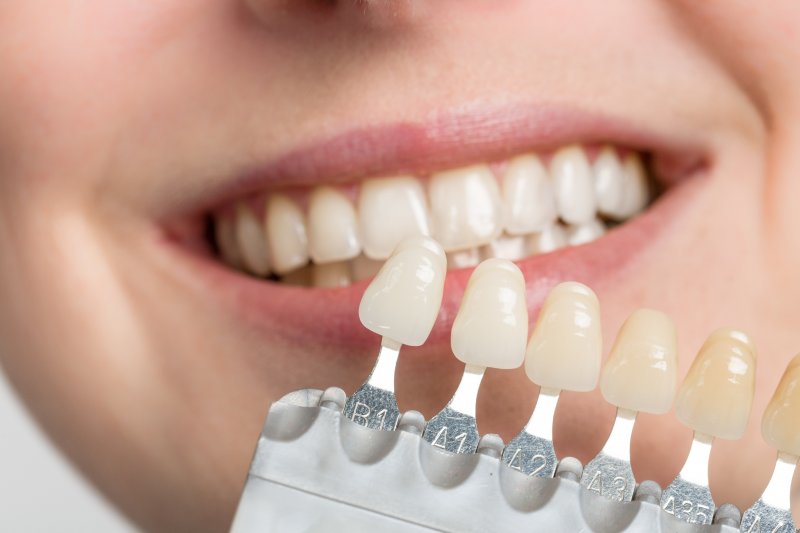 Porcelain veneers are known for their ability to fully transform smiles. Offering a way to hide imperfections and create a natural, beautiful appearance, they can last up to 20 years with proper care and maintenance. But what if you begin to notice they look slightly discolored? Should you try a store-bought whitening kit or special toothpaste? Before you attempt one of the many do-it-yourself techniques, learn why it's best to seek the help of a professional when looking to whiten porcelain veneers in Chaska.
Can Veneers Be Whitened?
Before we discuss the potential of whitening veneers, it's important to first consider how they can become discolored in the first place. After all, these customized restorations are designed to be more stain-resistant than regular tooth enamel. However, just because they may not show the remnants of your morning coffee as easily as your natural teeth doesn't mean they cannot become stained over time.
Whether you have porcelain or composite resin veneers, you may be tempted to try one of the many over-the-counter store-bought whitening solutions available. But if you want to avoid potentially ruining or damaging your veneers, it's best to see a trusted cosmetic dentist.
The truth is that veneers cannot be whitened if they have significant stains. Minor surface stains can be remedied with the help of regular dental cleanings and practicing good oral habits at home; however, deeper set-in stains will require your dentist to replace your veneers.
What Your Dentist Can Do to Improve Your Smile
Should you notice that your teeth appear darker than before, your dentist can help you regain that beautiful, natural appearance. Apart from replacing your veneers with newer, whiter ones, they will also go over ways you can alleviate the potential for future stains, such as:
Avoiding dark-colored beverages like coffee, soda, red wine, and even certain foods (i.e., berries, soy sauce, tomato sauce)
Rinsing with water if you are unable to brush after consuming a darkly pigmented food or beverage
Brushing after every meal to minimize food particle exposure to your veneers
Flossing between your teeth to remove harmful bacteria and decrease your risk for decay and gum disease
Never using your teeth as tools to open packages or containers, as this can damage your veneers and reveal stains on your natural teeth
Continue to see your dentist every six months for regular checkups and cleanings
The investment you've made in your veneers should last for as long as possible. Make sure you're taking precautions to minimize stains and watch your new and improved smile catch the eye of others for years to come.
About the Authors
Looking to brighten your customized porcelain veneers? Dr. Thomas Meschke and Dr. Aaron Swingdorf believe in providing patients with high-quality solutions that lend beautiful results. When living with a cosmetic solution like veneers, you will want to take every precaution to decrease your risk for stains, discoloration, and damage; however, should you notice your teeth looking duller, the team at Chaska Dental Center can help. To better understand what you can do to bring back your whiter, brighter veneers, contact us at (952) 448-4151 or visit our website to learn more.
We used the following sources to generate this particular blog article, some of which include: