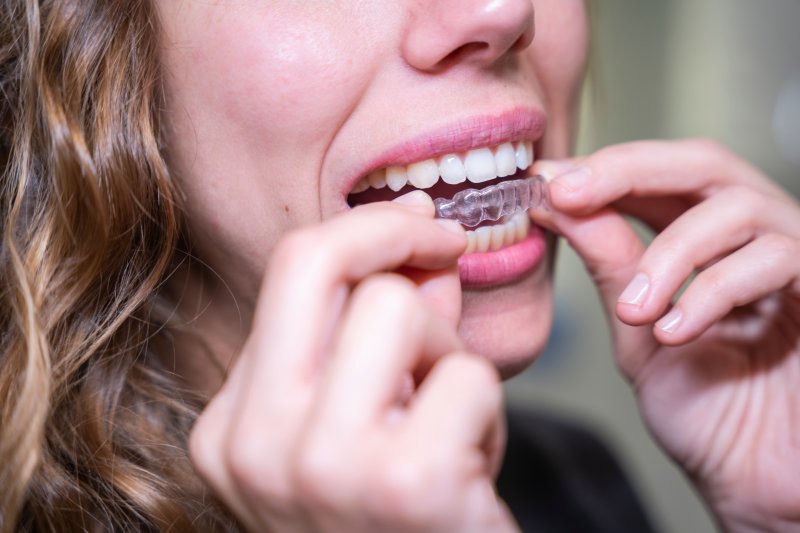 As you prepare to start treatment with Invisalign in Chaska, you may be wondering if the 22-hour rule your dentist mentions is actually necessary or more of a "recommendation." After all, you need to eat, drink, and clean your teeth, right? The idea of wearing these clear aligners the majority of the day might seem impossible, but if you want to make sure you avoid any delays, you'll need to adhere to your dentist's instructions. Here are a few suggestions that can help you to stay on track.
Why Is It Necessary to Wear Invisalign 22 Hours Each Day?
When you consider how traditional braces work, the regular bracket and wire system remain affixed to your teeth to ensure everything continues to move according to plan. The same is true for Invisalign except that your aligners can be easily removed. When choosing to wear clear aligners, however, you must be diligent in keeping them in your mouth as much as possible to ensure that your teeth move in the right direction.
The secret is that Invisalign only works when you're wearing the aligners. Because these tiny micro-movements occur over several months, it minimizes the chances of feeling much discomfort. However, if you choose not to wear your trays the normal 20-22 hours each day, there is a higher risk of complications and soreness that can develop each time you switch to a new set in the series.
How to Stick to the 22-Hour Rule
To ensure that you do not waver in your commitment to the Invisalign treatment process, your dentist in Chaska can provide some helpful tips that will make it easier to abide by the 20–22-hour rule, such as:
When switching to a new set in the series, do it before going to bed at night. This way, much of the initial movement and soreness will occur while you are asleep. You can also take an over-the-counter pain reliever to minimize discomfort.
Be mindful of how long you take to eat your three main meals. You should never "lag" when it comes to consuming food. This doesn't mean scarf it down, but it also doesn't mean taking two hours to finish your breakfast or lunch. Set a timer if necessary to ensure you don't forget to reinsert your aligners when you're finished.
Immediately after eating, rinse your mouth or brush and floss. This will serve as a reminder to put your aligners back in now that you're done eating and/or drinking.
Let your aligners soak in cleaning crystals while eating dinner.
At first, it might seem like an unmanageable feat trying to keep your aligners in for 22 hours each day. However, doing so will ensure you achieve your dream smile right on time. Simply use these tips to help you avoid any stumbles during your Invisalign journey.
About the Authors
Dr. Aaron Swingdorf and Dr. Thomas Meschke are pleased to provide Invisalign clear aligners as an alternative to traditional braces. With a more flexible way to straighten your teeth, you can embrace Invisalign and begin to notice the dramatic change in your overall appearance and oral health. If you're struggling to stay on track, however, contact us at (952) 448-4151 or visit our website to learn how we can help you get back on track.
We used the following sources to generate this particular blog article, some of which include: