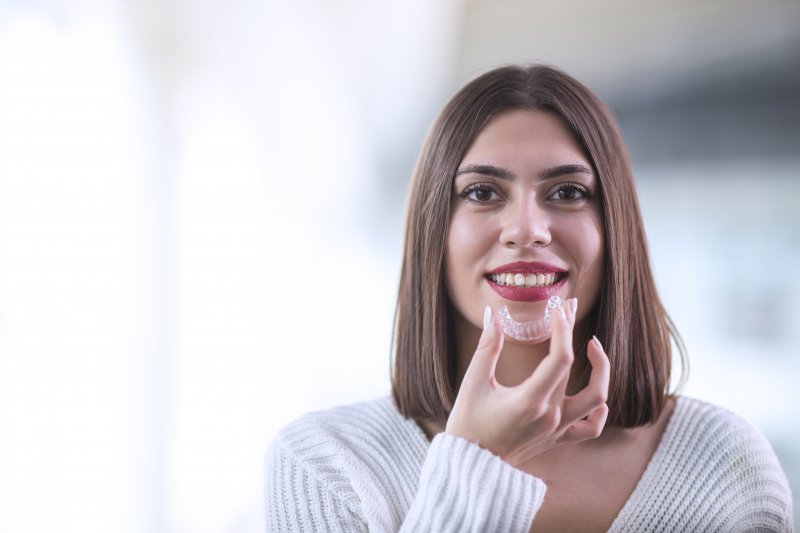 As a teenager, you may have spent your time in high school wearing metal brackets and wires. After a few years of successful treatment, you embraced a straighter, more beautiful smile. However, now that you're older, you've started to notice a change in your bite and how your teeth align. As a working professional, the idea of metal braces is unappealing, so what can you do? A local dentist shares how Invisalign after braces in Chaska may be the ideal solution to help you achieve a more perfectly aligned smile without compromising your daily appearance.
What is Invisalign?
Invisalign is a system of customized clear aligners that are designed to address issues of overcrowding, spaces between teeth, and bite alignment issues. By applying consistent yet, gentle pressure, your teeth will shift in the right direction to help you achieve long-lasting results.
When choosing Invisalign, you are expected to wear them at least 21 hours each day for 1-2 weeks at a time. Once you are finished with a set, you will swap out your current trays for the next set in the series. This continues until you have completed the entire series of Invisalign aligners.
Can Clear Aligners Straighten Teeth Previously Treated with Metal Braces?
Yes, it is possible to realign your teeth and straighten your smile with the help of Invisalign. There are many reasons why your teeth may shift after traditional orthodontic treatment (i.e., not wearing a retainer, gum disease, teeth grinding, or even jawbone growth), but you don't have to resort to regular metal braces to achieve a more perfectly aligned smile.
With the help of Invisalign, you can work to straighten your teeth and improve your bite without shining a spotlight on your orthodontic treatment. It will be necessary for your dentist to examine your smile before determining if you are eligible for Invisalign; however, if the problem is mild, these clear aligners can correct issues of overcrowding and spacial gaps as well as a crossbite, overbite, underbite, or open bite.
Benefits of Invisalign vs. Traditional Braces
Although the most beneficial aspects of choosing Invisalign over traditional braces is the ability to keep your treatment discreet and hidden from others, there is a multitude of advantages that come with clear aligners, including:
Invisalign aligners are removable. This makes them drastically different than traditional braces because you can easily remove your trays before eating, drinking, or cleaning them. Not only will you be able to eat your favorite foods, but you won't need to worry about attempting to dislodge food particles from underneath the wire or around metal brackets.
You can maintain better oral health. Unlike traditional braces that require specialized instruments (i.e., interdental brush) and a more time-consuming process, you can brush, floss, and rinse your teeth and gums like normal while wearing Invisalign. You can also clean your trays separately with lukewarm water and a soft-bristled toothbrush.
Invisalign allows for a more comfortable experience. Traditional braces use a bulky metal bracket and wire system that can cause oral sores to develop on your soft oral tissues. Invisalign are clear, plastic aligners that are smooth and fit snugly against your teeth. Your lips, gums, cheeks, and tongue should feel little-to-no irritation as a result.
If your teeth have shifted, you do not necessarily have to resort to another round of treatment with metal braces. Instead, talk to your dentist about the potential for Invisalign and discover how easy it can be to realign your smile for good.
About the Authors
Dealing with a change to your bite after years of treatment with traditional braces? Dr. Aaron Swingdorf and Dr. Thomas Meschke are here to help you take back your smile using Invisalign. Instead of resorting to metal brackets and wires that can make daily life more difficult, especially as a working professional, you can trust Invisalign to go to work to realign your smile without compromising your daily appearance. If you want to achieve life-changing results with clear aligners, contact us at (952) 448-4151 or visit our website to learn more.
We used the following sources to generate this particular blog article, some of which include: