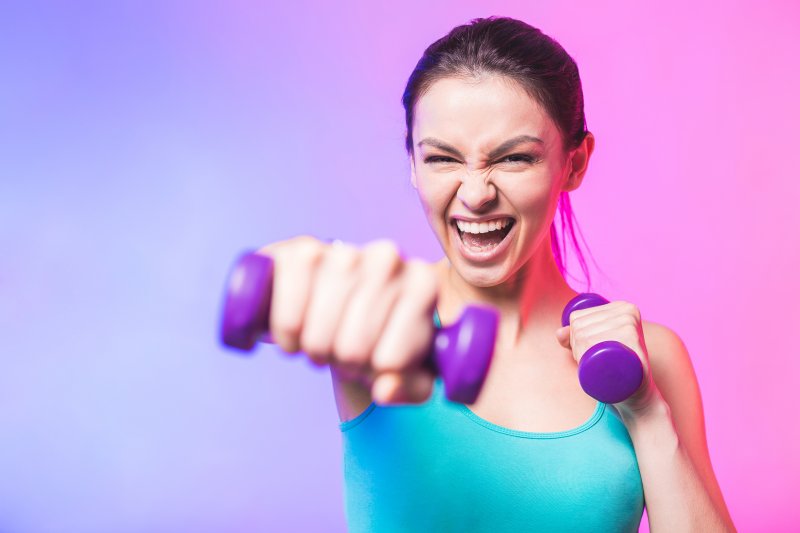 Working out and maintaining a healthier lifestyle takes time and effort. While you may be focusing more on shrinking your waistline or toning your arms or legs, you must also be mindful of your teeth and gums. If this seems far-reaching, read on to learn exactly how fitness and oral health in Chaska are linked and what you can do to minimize the potential for dental pitfalls along the way.
Problems That Can Develop Inside the Mouth While On Your Fitness Journey
Whether you're lifting weights, going for a run, or trying to eat healthier, the choices you make can either positively or negatively impact your oral health. Each time you become physically active, especially outside among various elements, you run the risk of damaging your smile. The exertion you put out likely has you breathing more through your mouth than your nose, resulting in "dry mouth." Also, sports drinks may promise greater energy and the ability to restore your electrolytes, but they're full of sugar, putting your teeth at risk for cavities.
While these are just a few of the ways your smile can be negatively affected by your fitness regime, it is an opportunity to be more aware of how you can care for your teeth and gums while also focusing on better overall health and wellness.
Ways to Maintain a Healthy Smile and Body
Let's break down each component so you can better understand what steps you can take to ensure the health of your smile:
Physical Activity: When biking, running, or playing a high-impact sport, it is imperative you have the right equipment. Not only are pads and helmets beneficial but so is a customized mouthguard. These protective appliances safeguard your teeth and gums from serious harm that can land you in the emergency dental office. If you want to avoid a knocked-out tooth or busted lip, make sure your dentist can provide you with a customized mouthguard that comfortably fits your smile.
Attempt to Breathe Through the Nose: Dry mouth is a common occurrence when breathing through your mouth. When exerting lots of energy working out, you will find it is much harder to breathe through your nose and instead, you'll become what is known as a "mouth breather." As a result, saliva production will slow down, causing your oral cavity to become a haven for bad bacteria to grow and produce tooth decay and cavities. Minimize your risk by focusing on your breathing and attempting to slow down to breathe through your nose.
Staying Hydrated: Sports drinks may promise to quench your thirst, but with high amounts of sugar, they'll only cause your teeth to be vulnerable to tooth decay and cavities. Swap out your fruity beverages for water. Not only will it help to flush toxins out of your body, but it will help you re-energize as well as keep your salivary glands working at an optimal level, preventing dry mouth.
Avoid Clenching Your Jaw: Lifting weights can sometimes cause you to clench your teeth in an attempt to push through the pain; however, this can wear down your tooth enamel and place additional strain on your temporomandibular joints. Try to relax your jaw and wear a mouthguard if you need to. This will reduce the amount of damage on your teeth, joints, and facial muscles, preventing a misaligned bite or other jaw-related problems.
While working toward a healthier you, make sure you don't put your teeth and gums in jeopardy just to obtain a slimmer waist. Be mindful of both your mouth and body and achieve optimal health and wellbeing.
About the Authors
Want to lose weight? Dr. Thomas Meschke and Dr. Aaron Swingdorf are dentists in Chaska who understand a person's journey to better fitness takes hard work. They also know what damage can occur to an individual's teeth and gums throughout the process. If you're looking to tighten your core, tone your legs, and build better arm strength, make sure to contact us at (952) 448-4151 and let us provide helpful tips to keep your teeth and soft tissues free of cavities, tooth decay, and gum disease.
We used the following sources to generate this particular blog article, some of which include: